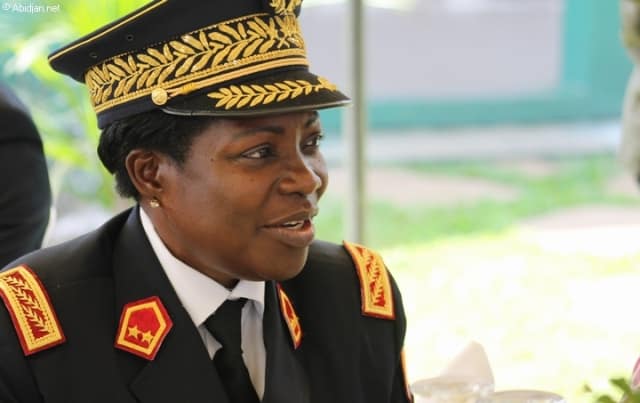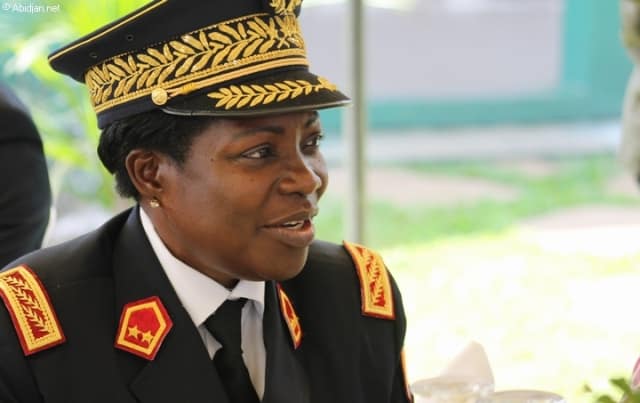 The rank of general in the Ivorian army was awarded for the first time to a woman who has made his weapons in the great dumb of his country. It is the Brigadier General Kouamé Akissi.
The rank of general in the Ivorian army was awarded for the first time to a woman who has made his weapons in the great dumb of his country. It is the Brigadier General Kouamé Akissi. It's a feat because in 30 years, the number of military women has never exceeded 100 and there are only 26 female officers. Portrait of the one who upset the history of the military hierarchy in Ivory Coast.
Since 6 August 2012, she is the first woman to have reached the rank of general in the Ivorian army. From the top of her 60 meter, this 59 woman stands proudly alongside other generals, men of course, to bring all her sensitivity of woman to the army at a time when Côte d'Ivoire is gradually emerging from more a decade of political crisis.
This rise to the top of the Ivorian republican forces, she owes it to her courage and a well made head. Indeed, she is covered with diplomas obtained during her university training as post-graduate.
Upon learning of her career, she realizes that she holds a doctorate in medicine from the University of Abidjan.
This girl from Assakra, a village located in the sub-prefecture of Kpêbo in the Toumodi department of 240 km of Abidjan, the economic capital, has brilliantly obtained a certificate of specialized studies (CES) in gynecology and obstetrics and ultrasound still at the University of Abidjan and Brest in France.
It is with these diplomas that she began her military studies. Kouamé Akissi has climbed the ladder in an army where women are still underrepresented. She made her debut as a student on January 10 1981.
She then obtained her parachutist's certificate from the para-commandos company of the 1er battalion of Akouédo in 1983.
Since then, she has progressed from captain to commander, commander to lieutenant colonel and colonel, and from there to colonel major and finally to brigadier general.
Her journey was not easy as she says: "I became interested in the army because of its rigor and discipline. It was while reading the daily Fraternité Matin in 1980 that I saw that the medical students were now admitted into the army. Against all odds, my parents told me to go for it. I listened to them.
During the internship, we were five women at the start. The men were very surprised to see female officers in this universe that they considered theirs.
We did our military service in Bouaké in the center of the country. During the first parachute jump, it proved harmless but during the second jump, the doubt began to win everyone.
I took my courage with both hands and jumped. At the end of the jump, while we were still in the coconut grove of Grand-Bassam, there were at that time Togolese soldiers among us.
A Togolese sub-lieutenant confessed after this exercise that it was thanks to me that he was able to jump. He said this: I could not not do it. Because, if I left Togo without having accomplished it when a woman had succeeded, President Eyadéma would throw me in prison. "
The testimonies and remarks full of admiration do not miss with respect to Kouamé Akissi. Most interviewees say they are proud to see such a deserving woman in a very senior position in the military. "She is a woman of honor and duty.
A figurehead in the Ivorian army and an example to follow for women, "says Roger Yao, president of the Mutual for Economic and Social Development of Assakra, his native village.
When listening to this rank, Kouamé Akissi becomes an icon, a model and a reference for many Ivorian women, especially for women who lack courage and ambition.
She is aware of what she represents to the women of her country. "As the first general woman in Côte d'Ivoire, I must be an example to all women and young people in my country, both in my daily conduct and in my work," she said.
For having campaigned in the women's movements of Côte d'Ivoire - she is also a founding member of the Network of Women Leaders of Côte d'Ivoire, General Akissi nevertheless remains a feminist lattice who wants to see more women climb the ladder just like men.
A firm conviction lives there and it is the one that wants the woman to change the face of the army by its sensitivity and its dynamics of peace.
She constantly defends the important role of the military woman in the Ivorian army. And many are doctors, she reveals. She wants women to be more numerous because the officers' school is now accessible to women, parity requires!
His general rank did not go to his head. The first lady of the Ivorian army puts her epaulettes and her stripes in the cupboard as soon as she goes through the doors of her house.
And there, she finds her family cocoon. Mother of two, she fully assumes her role as a woman at home. All this with the support of her husband.
"At home, my husband is in charge and I become a simple soldier again," she says modestly.
A humility that she keeps even in the army: "I would like with the grace of God to do my best to deserve this rank of general. I am already supervised by my senior generals and I know that their advice will be useful to me. "
She is the example to follow for these thousands of women who aspire to make a career in the army with only their intelligence, their courage and fighting spirit.
SOURCE: http://www.africanouvelles.com/nouvelles/nouvelles/afrique/cote-divoire-la-generale-kouame-akissi-premiere-femme-a-bouleverser-lhistoire-de-la-hierarchie-militaire.html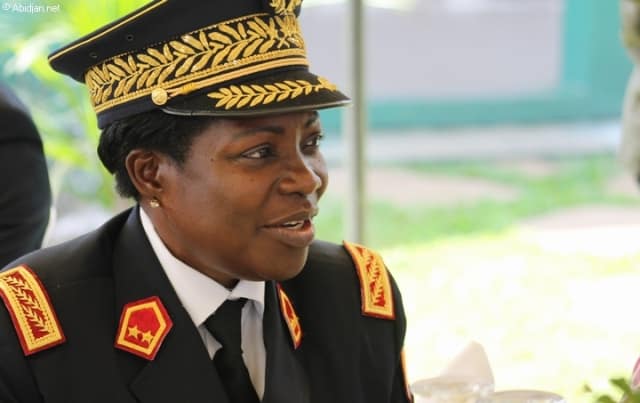 You have reacted on

"Akissi Kouamé, first woman general in the ..."
A few seconds ago