Tired of reading? listen to this article
Our beautiful souls are serenading us all the time on all possible media that the genocide is bad, concerning the victims of the Jewish people, but with regard to colonization, slavery, Indians, Africans, or Amerindians , the propaganda is non-existent to remind the suffering of these people who to continue during a period much longer than that of the Jewish genocide.
The Papuans are an ancient civilization, peaceful and identity. Here is one of their ceremonies, at least colorful and festive, followed by portraits of Papuans in their daily lives and in their beautiful and lush natural habitat: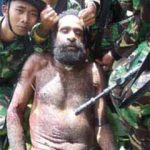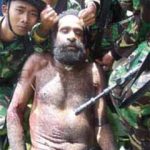 Since 1965, until today, they are nevertheless massacred or forcibly converted to Islam by Indonesian Muslims who colonize and occupy their territory since 1961. "Indonesia then embarked on a campaign to destroy the Papuan culture. Those who resisted were killed, tortured or "disappeared". At least 100 000 Papuans have been killed by Indonesians since the beginning of the occupation. According to some human rights organizations, we are in fact close to 800 000 victims.
Local natural resources (gold, copper, wood, oil, gas) were sold to Indonesian or foreign companies. Millions of hectares of land have been confiscated and past opponents murdered.
Indonesian soldiers have killed, raped, tortured and brutalized the Papuans with impunity, and the massacre continues today. Dissidents are razor-burned or burned alive by the military. Men are thrown in jail for ten years simply because they waved the flag of Papua in public. "
Thousands of Papuans demanded a 2010 and 2011 referendum to demand a referendum on the self-determination of their province of Indonesia, which was denied:
For more information you can visit this facebook page : https://fr-fr.facebook.com/pages/Free-West-Papua-Campaign-France/445040498878012
You can take action by visiting this site ; http://freewestpapua.org/